How should i select startposition、ramp、outvelotage、plot duration in autotuning?
in the autotuning,the rmctool dissplay the picture 333,see the attchment。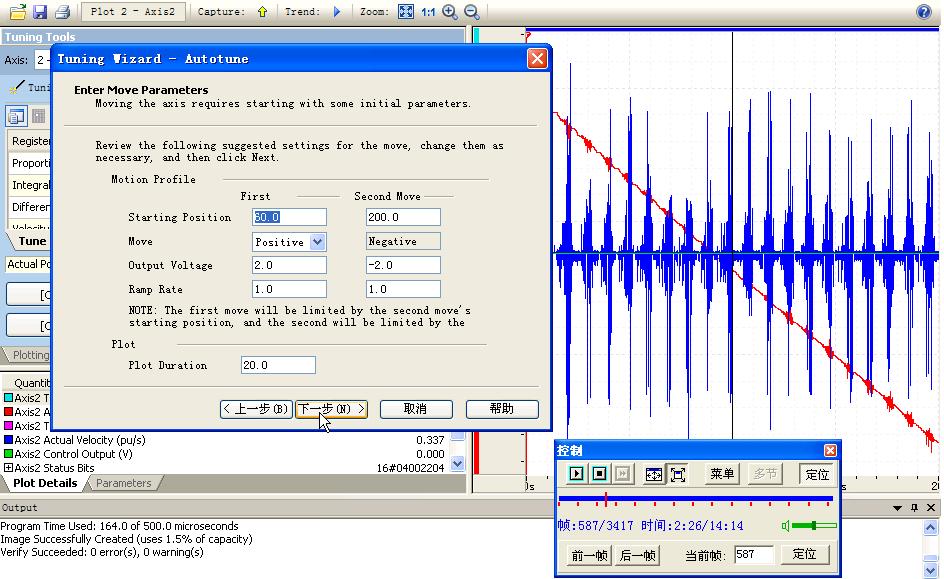 We recommend setting the voltage to approximately the value you expect it to be during normal motion on the machine. The Positions must be set far enough so that the auto move can complete. This can be difficult to know in advance. The Plot Duration must also be long enough to show the entire auto move.
I think the major problem here is that the feedback is very noisy. I think it is too noisy for the autotuning to work properly.
what's the funciton of velocity feedback. Determine the relationship between the voltage and speed? or else?
The Actual Velocity is used by the Differential Gain. The Actual Velocity in the plots is also very useful for seeing how well the axis responds. The Actual Velocity also makes it very easy to detect problems such as those cause by unsynchronized magnetostrictive transducers.
Also, if the Actual Velocity is very noisy, the Tuning Wizard will not work well, especially for the feed forwards. The axis will need to be manually tuned.
thank you for your reply.
If i want to use the autotuning, should the filter type select Low-Pass? because i apply to the control.
The autotuning automatically sets the filtering. If the autotuning doesn't work with the filter settings that it sets, then it is best to manually tune the axis.
Thanks
How should know the Actual Velocity Filter in the autotuning? when the autotuning is Complete ,i find thank the Actual Velocity Filter is not changed
When it has completed, the autotuning wizard sets the filter back to its original value.